Heraklion port
The port of Heraklion is inside the city, north of the city, and it is the biggest port of East Mediterranean.
It has been the transit point for merchandise since the years of the Minoan Civilization, a pylon of the Europe-Asia connection and relation. After all, Zeus, transformed into a white bull, brought beautiful Europe here when he seduced and stole her from Phoenicia, today's Lebanon.
The port of Heraklion has ships going to Piraeus every day, during winter and summer, and during summer twice a day to Piraeus and Santorin and also other islands of the Cyclades. In the port there is the famous castle Koules, a Venetian castle, used as a fortress by the Ottoman Empire.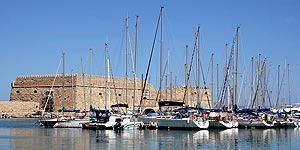 The sea-wall and the mole in front of the Koules Castle is one of the most beautiful walks of the island of Crete, as boats and ships come and go and airplanes fly above, giving the true image of Crete: a cosmopolitan place.